Is Your University Future Fit? Student success and other strategic considerations for Canadian higher education providers.
The 'How to compete for enrolment in higher education' publication by Deloitte Canada suggests that there are four key pillars to creating meaningful experiences for their students and for achieving Strategic Enrolment Management (SEM). See Figure 1.1 below: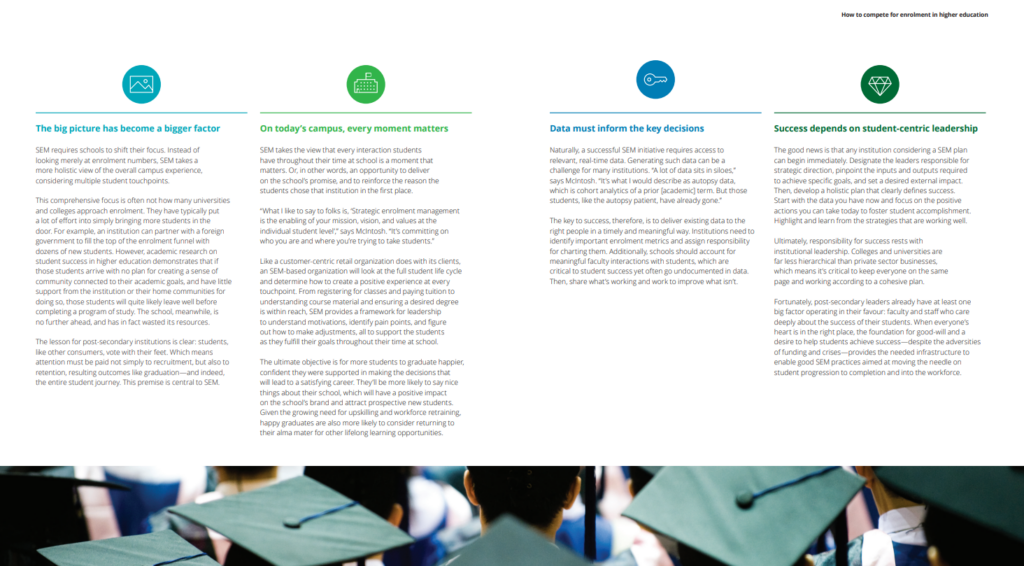 We'd like to emphasise the importance of the 'big picture' focus and insight (data) driven decision making – something that has proven successful among some of our University clients here at Catalyst.
Do growing enrolment numbers matter as much as student retention, positive progress and course completion? What about your students' next steps i.e. the rate and the speed of their employment?
Starting with key goals in mind, ask how effective is your data collection and analytics process? Is your data aligned with your organisation's and your student's 'success factors'? Is it shared with the right people in a timely manner? Is it analysed in relation to other relevant data? Are the findings acted upon for continuous improvement?
In higher education, as in most industries, there is a great push for achieving human and tech synergy. Solid marketing, HR and other strategies alone will not help you remain competitive. A clever digital strategy is equally important. There is one problem, however – universities are complex ecosystems.
"Like many public sector organisations, universities are encumbered by legacy cultures, systems, policies, fragmented data and limited customer experience (CX) investment." (Student experience in the age of the customer, KPMG.com.au, 2021)
The above report unpacks some important issues relevant to all Universities and other higher education providers around the world but if we were to pick one key fact from here, it would be the following:
"In 2030 students will have a much larger array of tertiary education options and they will demand hyper-personalisation and the capacity to optimise their own experience of any institution's educational offerings and services… Students will want to achieve their desired outcomes faster and to a standard set by their best experiences in other sectors. Their immediate experience of an institution's capacity to meet their needs will be the primary determinant of their continued relationship with that institution."
So whether you are dealing with on-campus, distant or blended learning students, school graduates or continuing education students, delivering a smooth experience from day one will be key to engagement and retention.
Including students in 'co-creating their education and engagement experiences' – and really understanding their needs and pain points – is increasingly important.
"Serving diversity at scale and delivering rich digital learning and engagement, and doing so at a competitive cost, will help universities survive and thrive," the report concludes and we couldn't agree more.
Supercharge your business: why it pays to be open.
Planning from the future, being attuned to market trends (e.g. the rise of micro-credentialing) and adjusting your offerings accordingly is also critical; so is ongoing staff education and training, effective data collection practices and secure, scalable infrastructure to ensure your business resilience. As mentioned in one of our recent blogs: 46% of students in Canada say it would influence their decision to attend a university or college if the school was known to have experienced a data breach or had a reputation for weak cyber security.
Cyber security in Higher Education: Must Know and Must Do.
In collaboration with our colleagues at Catalyst IT Australia, we have developed a digital strategy on a page checklist which you can download below. The global Catalyst team has contributed to many education providers' digital transformations over the last 25 years, and have many technical experts in house who have backgrounds in the Education sector. This means we understand the key needs and challenges when it comes to e-learning, student experiences, data collection and management, infrastructure requirements and cyber-security implications for universities and other enterprise level and growing organisations.
Catalyst IT Canada specialises in enterprise level open source solutions and are a Premium Moodle partner. We provide 24/7 technical support to our clients and are ISO27001 certified. The global Catalyst team are trusted by major universities, colleges and other education providers, as well as Government and major organisations in Health, Not-for-profit and Commercial sectors.