Moodle 4.1 Highlights from Our Team & Questions to Ask if You are a Moodle User.
It's no surprise that each Moodle release takes good to great and betters it every time. Being Open Source, Moodle is constantly supported by a global community of developers and users. It is feature-rich, highly configurable and most importantly flexible to individual organisations' needs.
In this blog, we look at Moodle 4.1 release as well as provide you with a list of questions you should be asking yourself whether you are an existing Moodle user or are considering Moodle as your LMS.
Further down, we also provide a link to our blog on cyber security in higher education, where we share some insight on why and what you need to do to keep your Moodle site secure.
We hope you find all these tips useful and please do not hesitate to contact our friendly team if you have any further questions.
Moodle 4.1 – what we love in the new release:
Moodle 4.1 release is something we've been waiting for and it sure proves the value of continuous innovation among the global Moodle community – as existing features continue to evolve and new features are being developed and added.
For our team here at Catalyst IT Australia, some of the highlights of Moodle 4.1 include:
1. TinyMCE Editor
First and foremost, we love the TinyMCE Editor and our clients do too! Here is why:
The toolbar is more familiar to all, even if you are new to Moodle
Creating and editing content is easy and intuitive
With the newly added table builder and ability to easily insert links and visuals, you can create content that's more engaging, self-explanatory and accessible to all

All this in turn creates a roadmap for greater stakeholder (staff and student) equity and reduces the need for staff training and/or over-reliance on technical teams.
We have included a few snapshots below.
Toolbar is more familiar to 'non-Moodlers'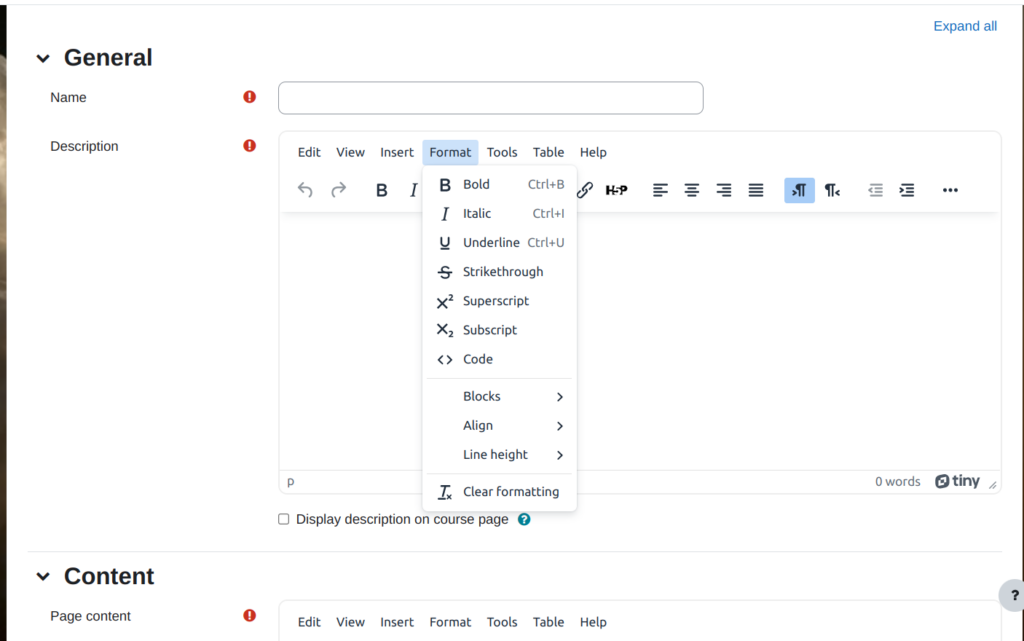 The Table Builder
2. Gradebook UX Improvements
The clearer interface in Gradebook allows you to have a single view of student grades by user, group or a specific grade item. In addition to the variety of filters, you can perform bulk actions achieving greater efficiencies.
3. Question Bank Improvements
Proudly developed by our team here at Catalyst, Question Bank is an excellent tool which allows teachers to manage and collaborate on quiz questions.
The latest improvements to Moodle Question Bank include the "Modified by" and "Last used" columns as well as inline editing. See below.
4. Custom Report Builder
With a number of new custom report sources, it is now much easier to identify users who meet a certain condition for courses.
As with the content (TinyMCE) editor in Moodle 4.1, with the improved Custom Report Builder you don't need to be a very technical person to be able to generate reports that are self-explanatory and easy to consume; adding to the accessibility and equity benefits.
5. Long Term Support Version (LTS)
Last but not least, Moodle 4.1 is a long term support (LTS) version of Moodle meaning it will be actively supported until 2025!
Are you using Moodle as your LMS?
If you are already using Moodle as you LMS, here are some questions you and your team should be asking:
When was the last time we performed a gap analysis when it comes to our use of Moodle?
What are the features we are always using that work well for us?
What are the features / activities we never use? Should we be using them?
Are there features we could be using better / more of?
What we want to start, stop, change, continue (apply the SSCC model) when it comes to the way we use Moodle and various individual features?
When was the last time we collected feedback from staff on some of the common issues experienced during creating courses, quizes, running reports, etc?
What do we do with existing plugins / features if the new additions / improvements seem like better solutions to our key problems and goals?
We suggest you:
Browse through the list of new and improved Moodle features on the links provided below.
Speak with your e-learning consultant to see how you can optimise your LMS usage and overall performance of your Moodle site.
Don't forget that Moodle and it's individual features are highly customisable.
Click here for more about Moodle 4.1 and here for all the New Features
If you are not using Moodle as your LMS, we highly recommend you consider it for all the reasons mentioned above.
You might also like
You might also like our latest blog on cyber security in Higher Education where we touch on how secure is Moodle and provide you with a downloadable cyber safety checklist – listing some of the key things you must consider to protect your organisation. Click below to find out more:

If you have any further questions about your existing Moodle site or are looking to implement Moodle for the first time, Catalyst team are here to help.
Catalyst IT is a multi-award winning, Premium Moodle Certified Partner.