University Health Network (UHN) is a research and academic teaching hospital affiliated with the University of Toronto and a member of the Toronto Academic Health Science Network. The scope of research and complexity of cases at UHN have made it a national and international source for discovery, education and patient care.  Part of the University Health Network, The Michener Institute of Education at UHN (Michener) embeds a school within a hospital, giving direct access to real-time, front-line insight that informs and shapes its curricula.
Moodle #1 : Critical Care
Challenge
In March 2020, UHN and Michener were looking for Moodle Learning Management System (LMS) application and infrastructure support for their existing 'Critical Care Training' Moodle instance that was built and managed by their in-house team.
This Moodle instance was developed as a provincial resource.
They were looking for the assurance of high availability (HA) and cyber-resilience to support the training of the critical care health professionals as part of Canada's response to the COVID-19 Pandemic. They also wanted to explore the possibility of a fully managed service, to leverage the technical capabilities of a cloud services partner. The LMS would support up to 50,000 learners. UHN and Michener chose to proceed with the fully managed service for their Moodle. It was a cost-effective option, that would free up their own staff to focus on their core business goals.
Solution
Catalyst migrated the existing Moodle LMS instance to a fully managed service.  The Moodle was delivered by our dedicated Catalyst-managed Moodle cluster, using Amazon Web Services (AWS) in the Canada region.
Catalyst took responsibility for full 24/7 infrastructure, hosting and application support of the LMS, meaning UHN could leverage the experience and innovations that Catalyst had made with Moodle on AWS over the last decade.  The cloud infrastructure included:
HA load balancers
Auto-scaling application servers, for optimal resource management
HA database, with horizontal scalability
High-performance object start
No single point of failure in the application architecture

Critical Care Learning Login
Result
The project was delivered in a week, and completed in early May 2020. UHN and Michener had a Moodle LMS solution that was reliable, scalable, with up-to-date security, and the assurance of 24/7 technical support.
By choosing the fully managed service, UHN and Michener were able to leverage the established cloud processes, tailored to support Moodle LMS.  This meant they could realise great cost management efficiencies.
The wider team at UHN and Michener were able to:
Deliver COVID-19 and Critical Care learning, without technical disruption.
Have full visibility of training completion status across the business.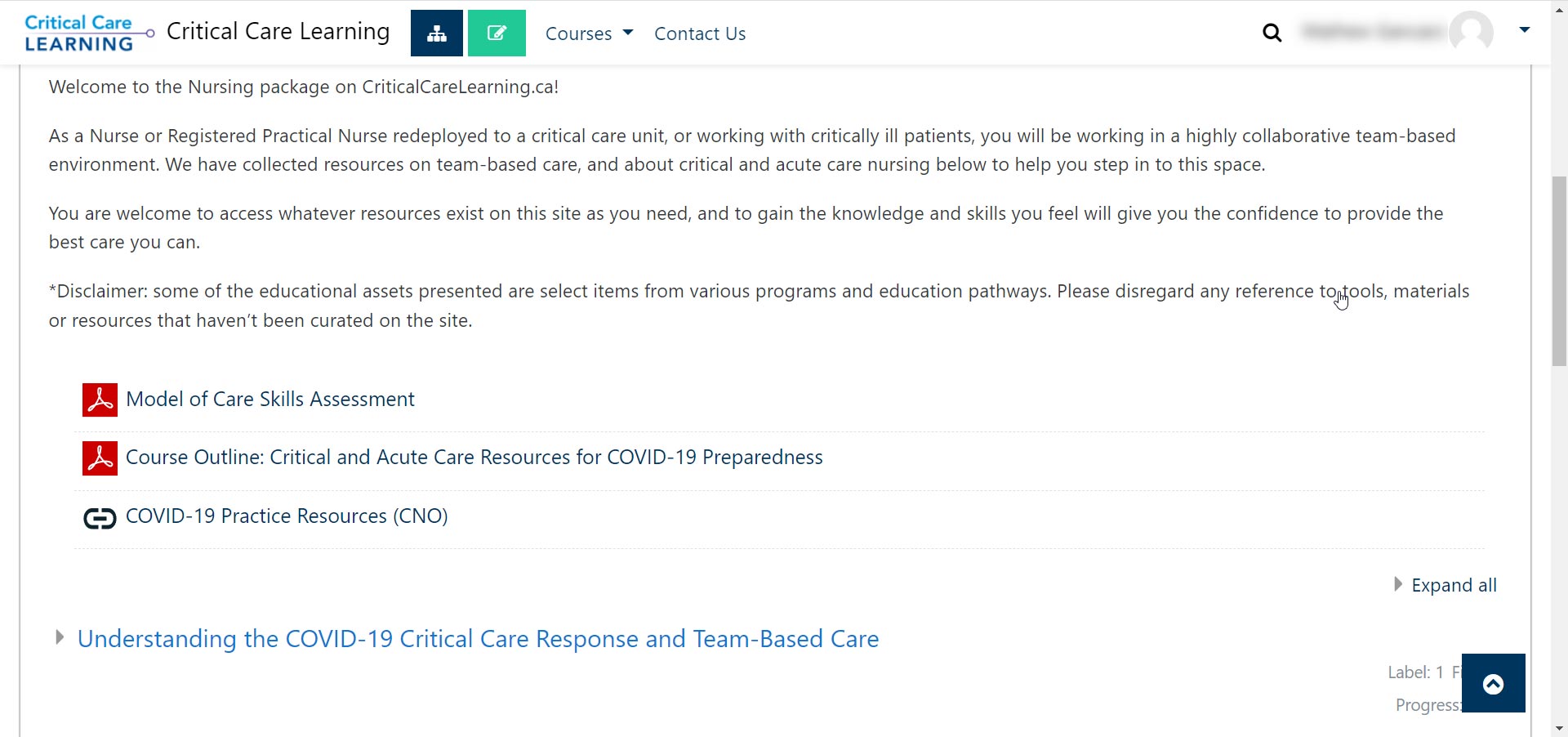 Critical Care Nursing Course
"The collaboration and partnership with Catalyst during the pandemic has been highly valued and key to our success in delivering critical programming provincially to our HCPs.  Their ability to rapidly assess our requirements and respond enabled us to provide access to courses that built much-needed capacity within our health care sector."
The Challenge
Following on from the first project, in October 2020, UHN and Michener approached Catalyst to commission another Moodle LMS.  This was to be another fully managed service, to facilitate the learning and training of Resident Support Aides (RSAs) working in long-term residential care homes. The site was part of a provincial government initiated in response to the pandemic.
The program required access to a reliable remote learning platform that would support up to 20,000 learners and be an enduring resource beyond the initial training.
The Solution
Catalyst established the fully managed Moodle LMS for the Ontario Workforce Reserve for Senior Support (OWRSS) training initiative.  Everything, including the codebase and the installed plugins, matched the existing Critical Care Moodle LMS instance that Catalyst had provided earlier in the year. The solution was a proven capability, that helped to reduce setup overhead and time, which was critical.
OWRSS Account creation
OWRSS Dashboard
Result
The project was delivered in under a week, ready for the start of the OWRSS initiative.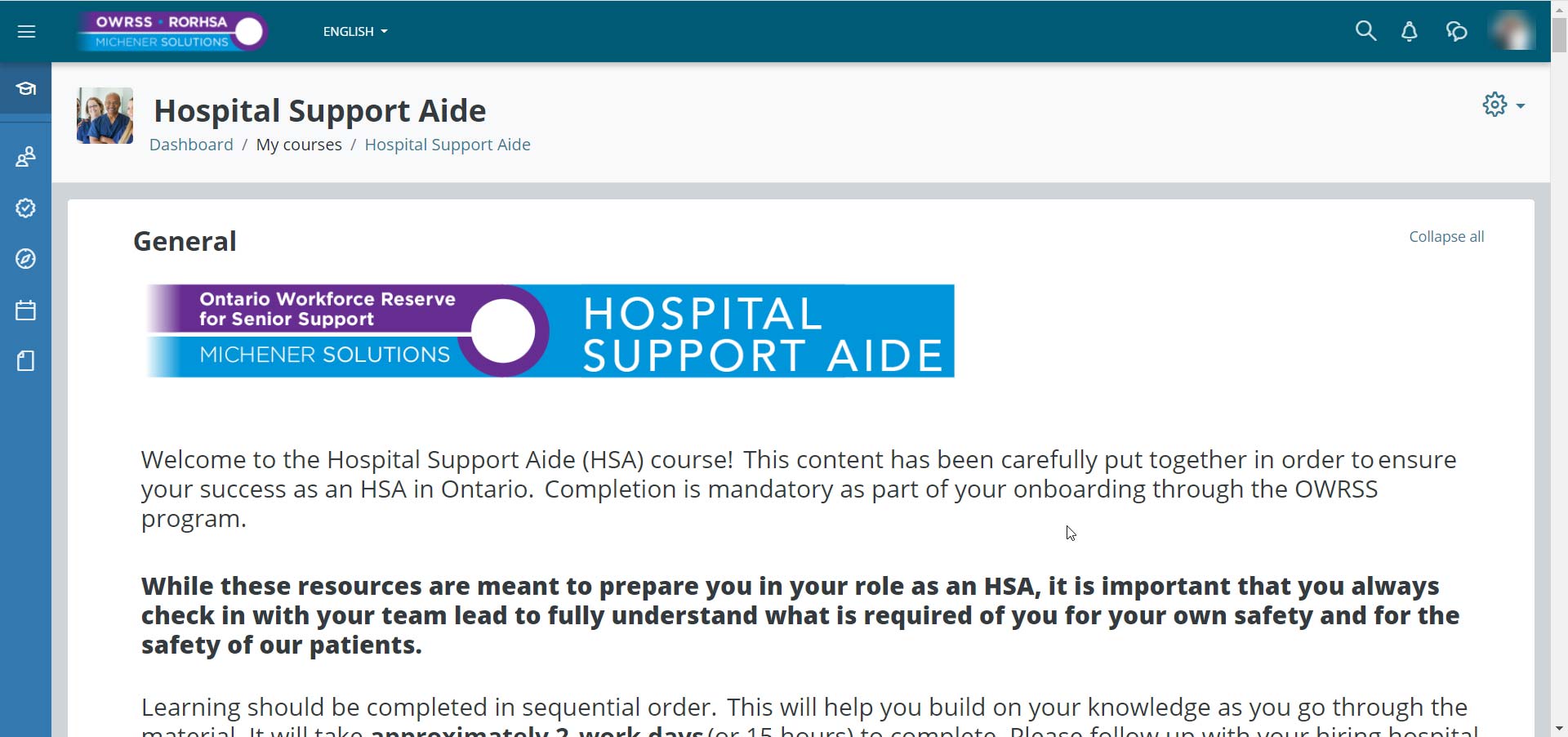 OWRSS Hospital Support Aide Course
"Working with Catalyst on the technical and operational aspects of the projects has been extremely smooth. They know Moodle inside and out, can develop new features for us as needed and their 24/7 support model allows for support and changes to be made whenever needed."
Moodle #3 – Michener Continuing Education
The Michener Institute of Education at UHN is the only institution in Canada devoted exclusively to applied health sciences education. It is the leading academic partner for the healthcare system in Ontario and beyond.
The school provides a broad range of full-time, part-time and continuing education programmes designed to meet the emerging and evolving health sciences needs within Ontario's healthcare system.
The challenge
In July 2021, UHN and Michener approached Catalyst. They had a third Moodle LMS for their Department of Continuing Education, which they were reviewing alongside their Critical Care LMS. They were looking to establish a single, organisation-wide LMS capability that could support the different functions of UHN and Michener. They needed a multi-tenant LMS.
The Solution
Catalyst provided a Moodle Workplace instance, with full multi-tenancy.
The new platform will support the training and education needs across the UHN and Michener networks.  It will allow the different areas of the business to remain separate, but with a federated management view and access to company-wide training resources. The new functionality includes some key capabilities:
Shared courses and programs across tenants
Shared certifications across tenants
Multi-tenant authentication
Updating across tenants
Automated and competency-based enrolment
Certifications and compliance tracking
Re-certification management
Cohort-tailored notifications and tasks
The project is phased and the Moodle LMS has been in active use since August 2021 with continued expansion.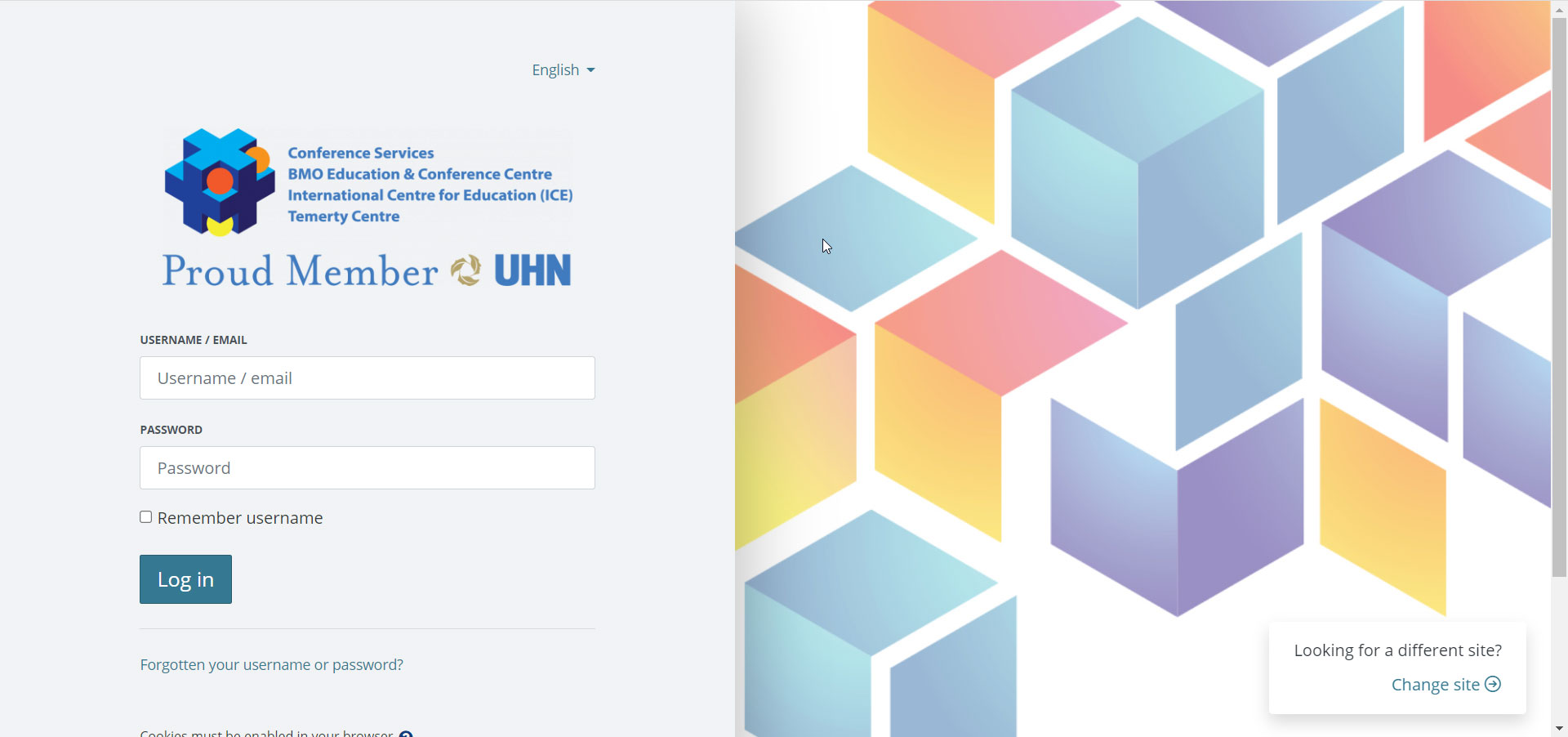 Michener UHN LMS Login Page
A successful working partnership
A successful working partnership The success of the Moodle LMS projects is a testament to how well the UHN, Michener and Catalyst teams collaborated. They have established communications that work, which means a shared understanding of goals and knowledge of what needs to be done. The combined team has achieved seamless improvements in UHN and Michener's educational technology.
The UHN and Michener learning and education ecosystem continues to evolve. The management team has the assurance that their LMS technology is up-to-date, high-performance, cyber-resilient and cost-effective. System administrators and academic staff are supported, enabling them to focus on the success of the learners and UHN and Michener business goals. The new multi-tenant LMS gives UHN and Michener the flexibility and scalability it needs to support its continuing growth and success.