Looking to integrate the applications within your business? Want to implement single sign-on (SSO) and multi-factor authentication (MFA) to reduce login fatigue and make accessibility simpler? The team at Catalyst can help streamline access to your LMS, CMS and other critical applications in your environment.
Image
What is SSO?
Single sign-on (SSO) is an authentication scheme that allows your staff and students to access multiple sites and online services using one set of login credentials, for example – a name and password.  SSO has a number of significant benefits:
Maintains user engagement  by reducing login fatigue
Reduces help desk support workload – less requests for help with access
Improves cyber resilience by reducing the number of access points (attack surface) to your environment's systems
Reduces technical debt of maintaining disparate systems
SSO – a short explanatory video
This short 2.5 minute video gives an overview of SSO and the benefits it delivers
SSO in universities
We understand that SSO implementations can vary from one institution to another.  We've worked with large universities that have a wide variety and number of systems and applications to consider; the image below represents a typical SSO architecture within a large university.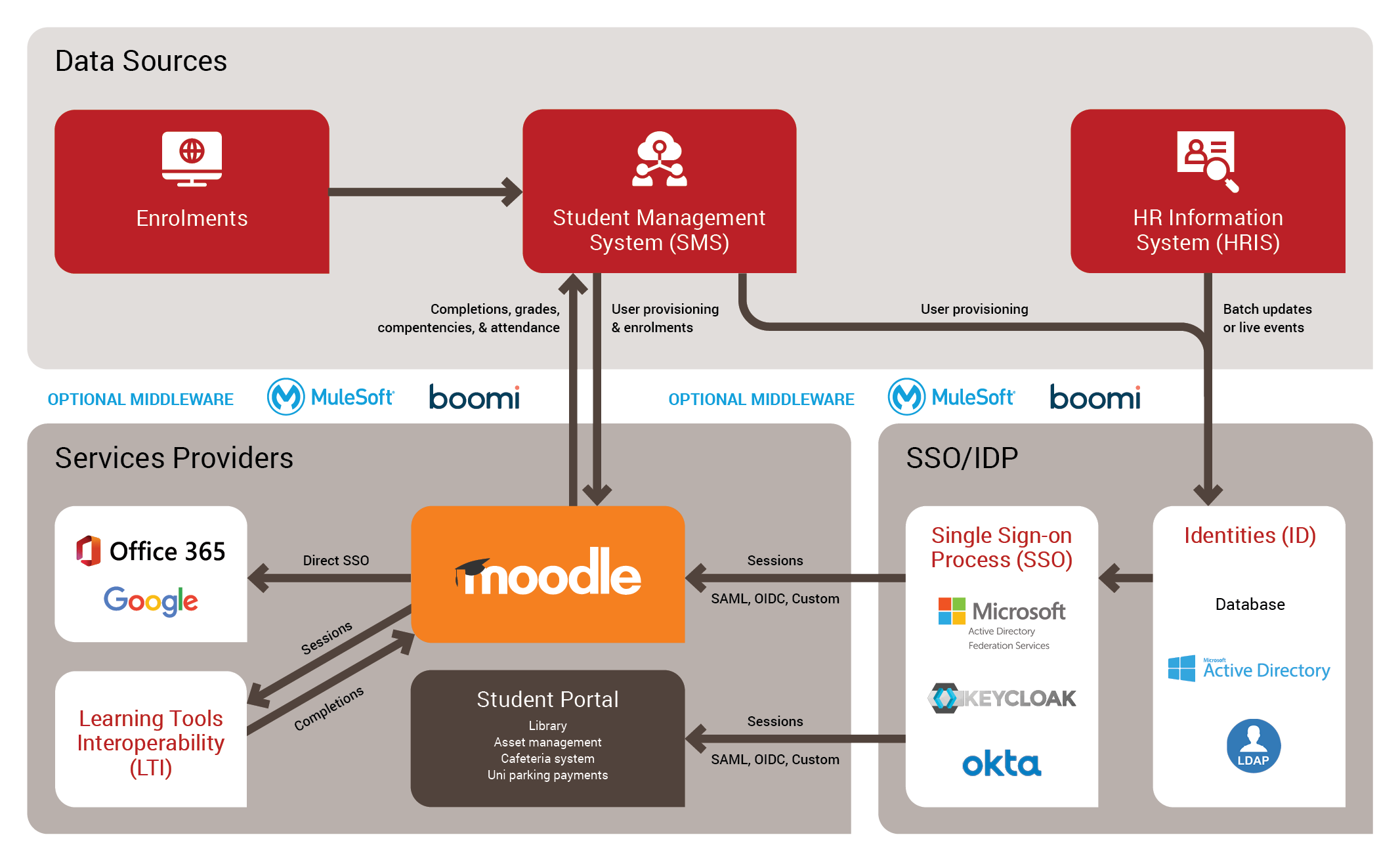 User authentication with SAML
An integral part of SSO is user authentication, the process of transferring authentication data between two entities securely.  This process is managed by an authentication protocol, one of which is SAML.
What is SAML?
Security Assertion Markup Language (SAML) is an open standard authentication protocol.  It is the most mature and supported protocol on the Internet, that can be used across any third party authentication service: Okta, ADFS, Sun Identity Manager and Keycloak.
SAML authentication plugin for Moodle
One of the challenges with SAML is that it's technical, not all administrators have the luxury of time to learn how to implement it.   Yet they need it.
The team at Catalyst created the Auth SAML2 .0 plugin for Moodle LMS.  It provides administrators with an easy means to set up SSO using SAML against your IDP with minimal technical SAML understanding.
Explore Moodle plugin for user authentication
Why use it?
The Moodle authentication plugin allows administrators to focus on business requirements, rather than technical ones.  Main benefits:
• 100% configured in the Moodle GUI – no installation of a whole separate app, and no touching of config files or generating certificates;
• Minimal configuration needed, in most cases just copy the IdP metadata in and then give the SP metadata to your IdP admin;
• It is fast – 3 redirects instead of 7;
• Supports back channel single sign-out, which most enterprise organisations require.
Create an optimal environment for your users
How system integration can transform your business
Image
Encourages and enables access to a wide pool of resources, that will enrich the learners' experience.
Image

Helps build a strong culture by boosting collaboration between teaching and training staff, as well as student communities
Image

Provides a seamless interface with applications and services that staff and students need.
Image
Reduces costs by improving functionality and workflows; IT Help Desks receive less support requests.
Improve collaboration and usability within your business
Catalyst services are proven, providing the assurance that you need
15+ years of experience working with open source solution partners
Endorsed by Australian Government: GovCMS Drupal Services Panel Member for integration work
Proven enterprise level capability: Monash University, Kmart Australia
Business is ISO 27001 Certified  – all operations meet the regulation's information security requirements
Global perspective: Catalyst is a multi-region group that operates in APAC, UK, Europe and North America
Increase user engagement, reduce technical debt and develop cyber resilience for your business.
Increase user engagement, reduce technical debt and develop cyber resilience for your business.