Whether your focus is continuing professional development, compliance training or simply cultivating a strong e-learning culture – the team at Catalyst can help implement, customise and optimise your workplace Moodle to deliver a positive UX.
What is Moodle Workplace?
Built on the core foundation of the open source Moodle Learning Management System (LMS), Moodle Workplace is a customisable solution for the delivery of workplace learning and development.
This short 1.5 minute video provides an overview of Moodle Workplace
Moodle Workplace key features
Moodle Workplace contains all the Moodle LMS features, plus much more:
Moodle Workplace latest version
Moodle Workplace 4.0 offers a new contemporary look and feel that is fresh and intuitive. Other improvements include:
Simplified navigation
An improved course page and rejuvenated dashboard
Open source virtual classroom – BigBlueButton
Quiz and Assignment improvements
Greater focus on accessibility
Learn more about Moodle 4.0 on the Moodle website.
How Catalyst IT supports Moodle Workplace
As a multi-region Premium Moodle Certified Partner,  Catalyst IT Group is fourth biggest contributor to the Moodle Project, and the largest in Australasia behind Moodle HQ. We specialise in large, complex Moodle sites and offer fully managed IT services and 24/7 support for our clients.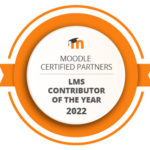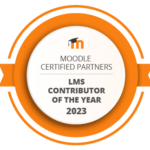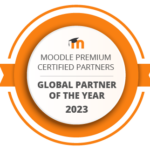 If you are looking for Moodle Partner Services for your workplace Moodle, whether for 200 or 2 million users, Catalyst has in-depth expertise, enterprise level experience and 24 /7 follow the sun support to help you succeed. Catalyst team offer a full suite of Moodle services, from front-end consulting and custom feature development to cloud hosted managed services – migration and deployment in AWS cloud infrastructure.
Services to support Moodle Workplace
Benefits of working with a Premium Moodle Certified Partner
Why choose Catalyst IT for your Moodle Workplace services
15+ years experience of customising and developing Moodle LMS
Award winning recognition for open source development expertise: Moodle
Expert Moodle Certified e-learning consultants
World-class hosting on AWS architecture for exceptional system performance, reliability and high availability
Security and reassurance, less time managing your workplace LMS and more focus on learning and development
Ongoing support  and 24/7 follow the sun response, supported by our multi-region presence
Proven enterprise level capability – Monash University, Kmart Australia
Being able to share the benefits of the global Moodle community contributions
Get in touch to find out how Catalyst's expert team can support your Moodle Worplace LMS.
Get in touch to find out how Catalyst's expert team can support your Moodle Worplace LMS.